Filter Reviews
Size
Fit
Color
Feet
Look
Comfort
Width
Sandals
Feel
Style
Cushion
Pain
...
Shoes
Support
Foot
Wear
Exchange
Laces
Sneakers
Pair
Suede
Show
Dansko
5 star rating

4 star rating

3 star rating

2 star rating

1 star rating
I love the look.
Review by Brenda on 14 Apr 2019
review stating I love the look.
I have a long slender average foot; but most shoes squish my little toes (so I ordered wide).
They look great, but the width is right on the edge of being too tight. Wearing anything except very thin socks is an issue.
Feet sweat, and toes need to be able to move and breathe. A smidge more width room would be fantastic.

I wear thin orthotics and the top and upper sides of the shoes feel good and are (thankfully) lightweight.

The sole took a bit getting used to as it was slightly flat or maybe even concave, as my normal gait was thrown off a bit. I made a lot of noise walking as it clacked hitting the floor.
Wearing the shoes every day for 8 1/2 - 9 hours at work on a concrete floor the entire time, the shoes are becoming more pliant and pliable.

I can't wait to see how they look and feel in another few weeks.

Venting would make an awesome addition.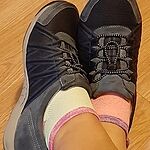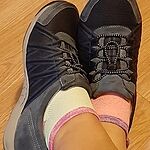 I forgot I had them on!
Review by Deb on 20 Feb 2020
review stating I forgot I had them on!
I have been looking for simply ages for a pair of sneakers that were comfortable. I out these on and went for a walk. I was 3000 steps into my walk when my husband asked how my shoes felt. I had to smile because I had totally forgotten that I was wearing new shoes they were that comfortable. I will be purchasing another pair! Thanks!
Loved Shoes
Review by Janet on 17 Feb 2020
review stating Loved Shoes
These are the most comfortable shoes that I have ever owned. I have them in black, light gray and now the blue. I hope you keep making them. Love not having shoelaces!
Great Fit!
Review by Kevin on 15 Feb 2020
review stating Great Fit!
These shoes look good and feel good. They were comfortable from the first day.
Very very comfortable and cute
Review by gail on 13 Feb 2020
review stating Very very comfortable and cute
Very very comfortable and cute too!